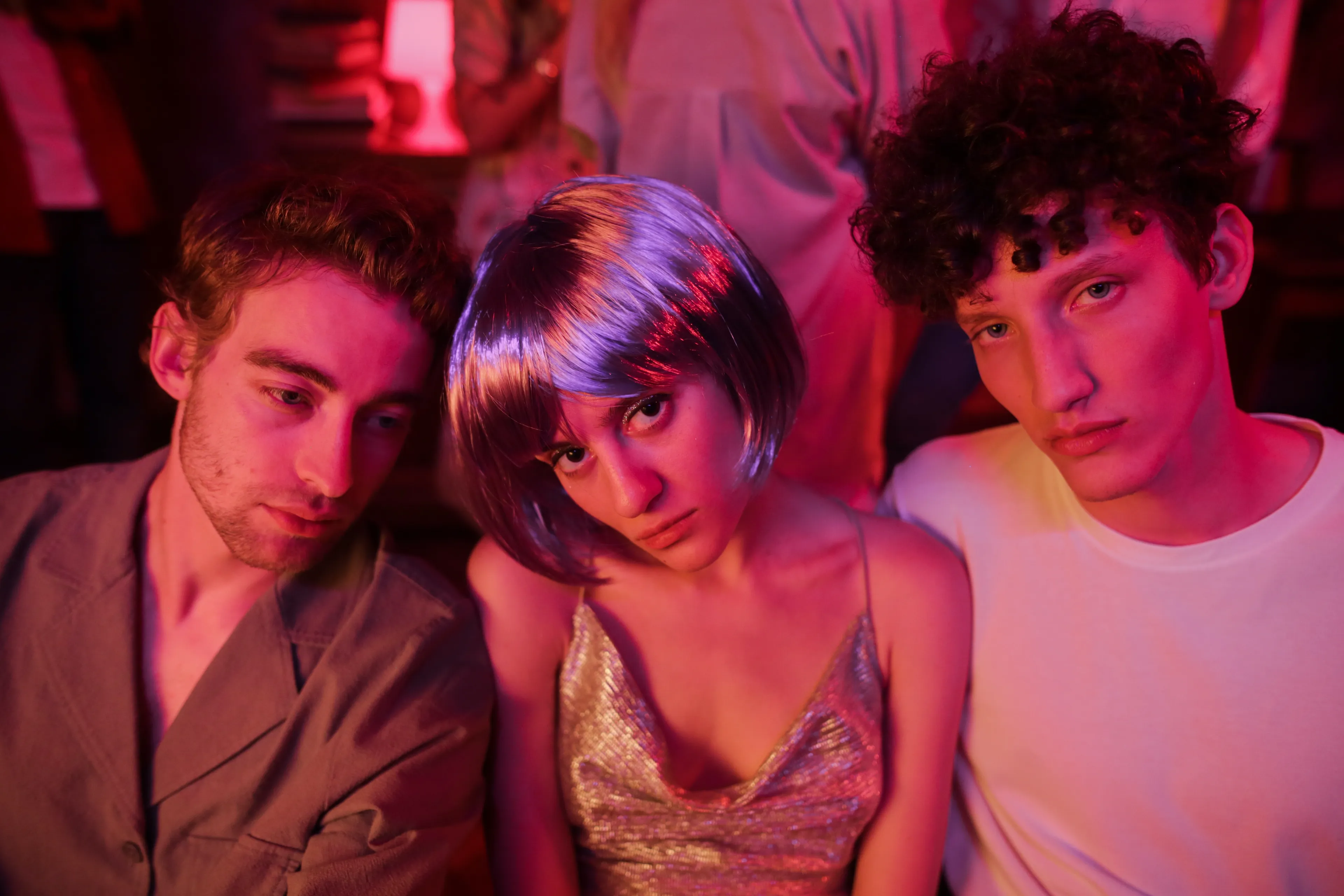 How To Have A Threesome
With Your Girlfriend
Peter: "What would you do if you had a million dollars?"

Lawrence: "I'll tell you what I'd do, man, two chicks at the same time, man."

–Office Space
This quote reminds us of the collective male fantasy – the infamous ménage-a-trois.
Though the 2 girls/1 guy sexual combination is known for being a predominantly male pipe dream, I've found that it's many women's idea of a good time, too.
I've had guys tell me…
"My girlfriend wants to share a girl with me for my birthday."
"My girlfriend's into other girls and thought it would be fun to have someone join us."
"My wife said she had a fantasy about me, her, and another women. She said it kind of turned her on."
There isn't just my anecdotal experience, either. The research backs it up.
Table Of Contents
What The Data Says
In 2013, the National Survey of Sexual Attitudes and Lifestyles (arguably Britain's leading surveyor in the field) interviewed over 15,000 adults and found that 18.4% of women age 16-34 had a sexual experience with another woman, with 8.4% of those being genital contact.
Cornell University surveyed 20,000 people in 80 communities across the United States. They found that 14.4% of young women identified as not strictly heterosexual, i.e. either lesbian or bisexual.
Psychology Professor Elizabeth Morgan at Boise State University found that 60% of women were physically attracted to other women. 50% have had sexual fantasies of other women and even 45% had kissed another woman.
Whatever the exact numbers are, it's clear that many women are attracted and sexually interested in other women.
So if your girlfriend or wife is down for it and you are, too — let's get it on.
Bringing Up The Subject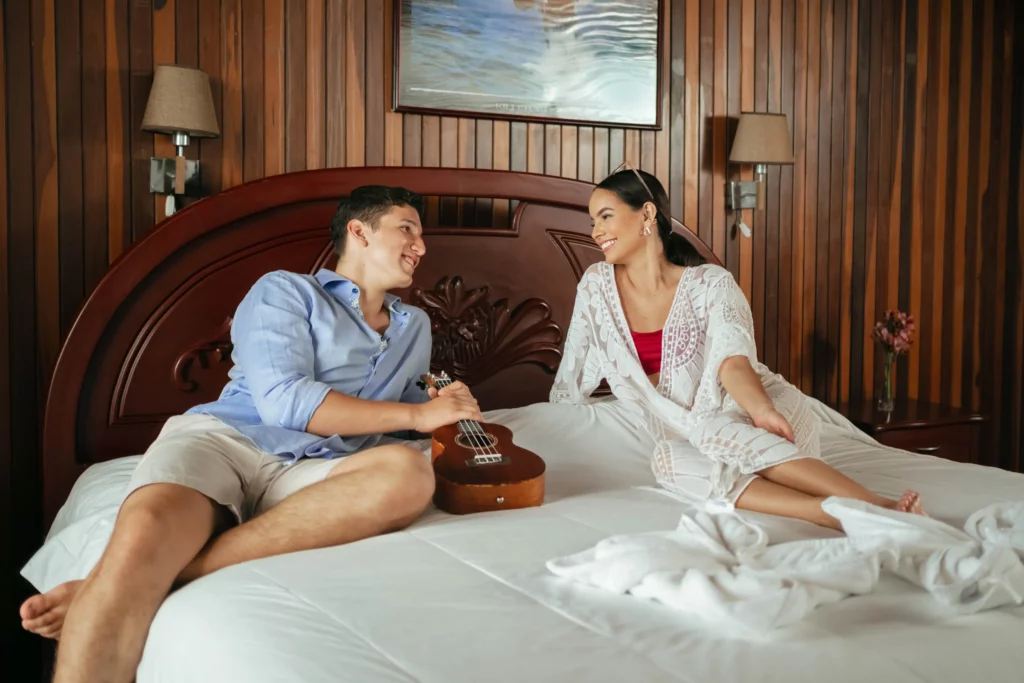 This article mostly assumes that you're dating a woman who's already expressed interest in this idea. If you haven't, then it's time to test the waters and gauge her response.
Understand that this can be a touchy subject. If brought up at a bad time or in the wrong context, it can strain your relationship. The last thing you want to do is make your partner feel like you're not satisfied with her.
Many men who are completely happy in their relationships find it exciting, novel, and sexy to add another woman to the mix and spice things up.
But your mindset going into this should be to make this experience about your partner and you.
This isn't some bullshit game because I hope you actually want this for her as much as you do for yourself. This should not be used as an excuse to get with another woman and cheat on your partner. Instead, you should genuinely want to see your partner have fun.
As I said earlier, you want these discussions to be at appropriate times. The best way to do this is during intimate conversations, post-sex, or when you're both opening up about your fantasies. You could even share how you had a sexy dream about her with another woman.
Another idea is to use an interactive sex questionnaire such as Mojo Upgrade. You both fill out a survey about your sexual desires. If you share a common fetish, the survey notifies you. This way, you only discover what you're both into.
Let her know you think she would enjoy the experience. Reinforce how sexy it would be to watch her play with another beautiful woman and for her to be in complete ecstasy.
If she's curious or even open to the idea, you may suggest boundaries that would make her feel more comfortable.
Many couples start with only having the man spectate. Or they have rules in which he can't touch the other woman without his partner's permission. Or that he may only go so far with the other woman but not have penetrative sex.
Sometimes, it even helps to roleplay in the bedroom when she's expressed interest.
During an intimate session, you can describe what you think the experience would be like for her. Help her visualize and even feel what it would be like to be touched in this setting. The more she gets into it, the more likely she'll desire it in the future.
You want to make your girlfriend as excited and comfortable about this experience as you are.
Finding Eligible Women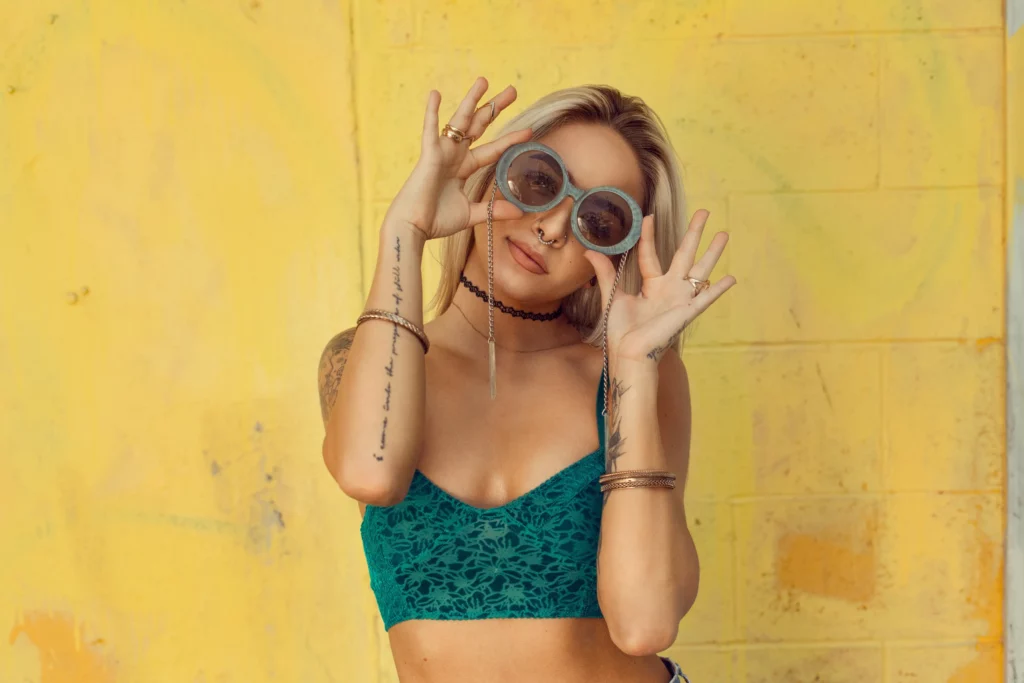 At this point, you and your partner should have verbally agreed to start looking for other women. This article is going to focus mostly on meeting those women in-person.
If you're trying to find women online, you can use search filters for "women who are interested in women" or keywords like "bisexual" on dating sites. I also suggest checking alternative sites like Fetlife.
As for finding women in-person, I wouldn't suggest trying during the daytime. I can't see many women getting excited by a random couple approaching them about threesomes while shopping. Instead, I would focus on nighttime environments.
In general, bars, dance clubs, and parties will be viable places to find open-minded women.
If you're into any "scenes", they will have the highest chance of these types of women. For example:
Rock, punk, industrial, or goth clubs – This also includes BDSM clubs, burlesque shows, and clubs that have special "alternative" nights. These tend to draw more experimental women.
Raves or festivals – Free-spirited people partaking in all sorts of feel-good substances? Easy choice.
Gay clubs – While many gay clubs frown upon straight men, going as a couple is usually well accepted.
Swingers clubs – These tend to cater towards the 30-50+ crowd. They also often do not have the most physically attractive people. While they may be extremely relevant, they may not have what you're looking for. You'll have to try for yourself and see if it's a good fit.
3 Ways To Make An Introduction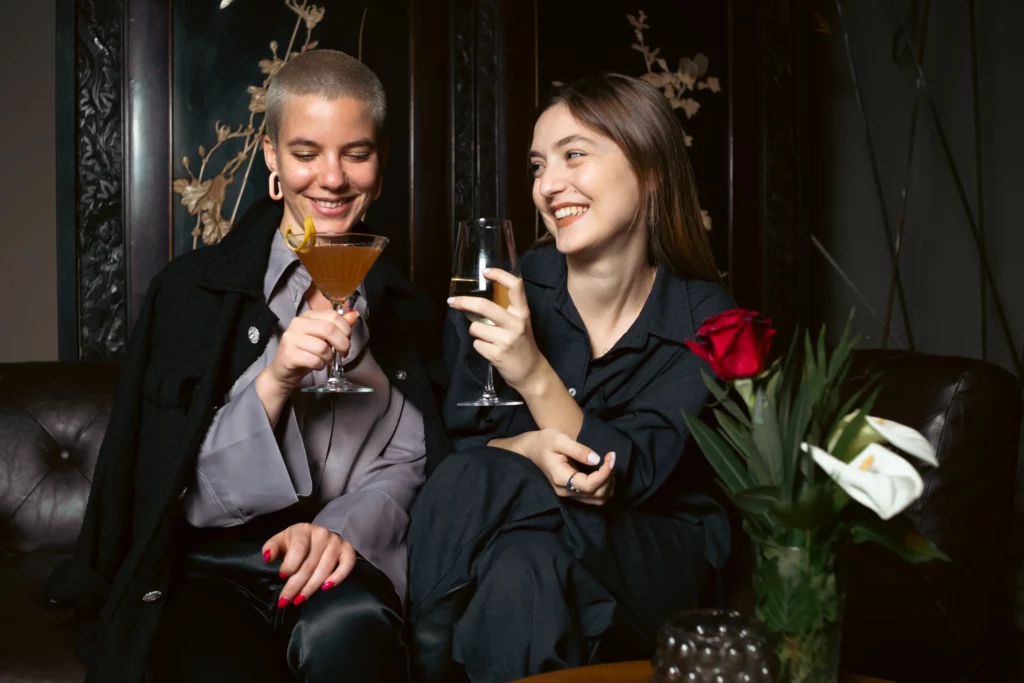 Now you're both in a venue and ready to see who's out there.
You have three routes to choose from:
1. Letting your girlfriend approach
If you have a confident, outgoing girlfriend, this can be a great way to go. Why? Because there's an unspoken etiquette between women in which they're usually polite to each other from the start. Women rarely outright reject other women.
Your girlfriend can start by introducing herself and keeping it relatively platonic for the first few minutes. She can be a little playful but doesn't necessarily need to be super flirtatious. Your girlfriend simply needs to position herself as a comfortable, engaging, and relatable girl to talk to.
From my experience, heterosexual and bisexual women become more attracted to another woman once they have a solid emotional connection. Coming off too strong initially can sometimes be intimidating, especially if they've never been romantic with a girl.
Once they've been hitting it off for 5-15 minutes, your girlfriend should bring you into the picture. All she has to say is, "I have to get back to my boyfriend but why don't you join us?" or "Come meet my boyfriend, I think you'll like him."
By this point, if the other girl is already enjoying herself, she'll be more open to meeting you.
2. Doing the approach yourself
Introduce yourself to a girl as you normally would. The rest of the rules still apply — you want to create physical contact, flirt, and be very playful. Building sexual attraction is critical.
By approaching the situation like this you give off a more casual hookup vibe, which is exactly what you want. Within a few minutes, you need to tell her you have a girlfriend if it hasn't already come up. You don't want to lead a woman on and you don't want to waste time if she's not cool with this idea, either.
You can ask something like, "Who are you here with?" Once she tells you, she'll usually ask the same. You can reply, "With my girlfriend, she's hanging out over there."
Now this may draw some hesitation and confusion. This is where you reinforce that everything is fine and your girlfriend is fully aware of what's going on. "My girlfriend is cool with me talking to other girls. In fact, she encourages it."
Either then or shortly after, invite this girl to meet your girlfriend. You can say, "That reminds me — I should probably check in with her, come join me." Or "By the way, my girlfriend would love to meet you."
Otherwise, the most common approach would be:
3. Approaching as a couple
Say hello and focus on getting to know each other for a few minutes. Enjoy yourselves and laugh a little.
All you want at this point is to create a friendly, relaxed dynamic. Then continue below.
Getting Everybody Mingling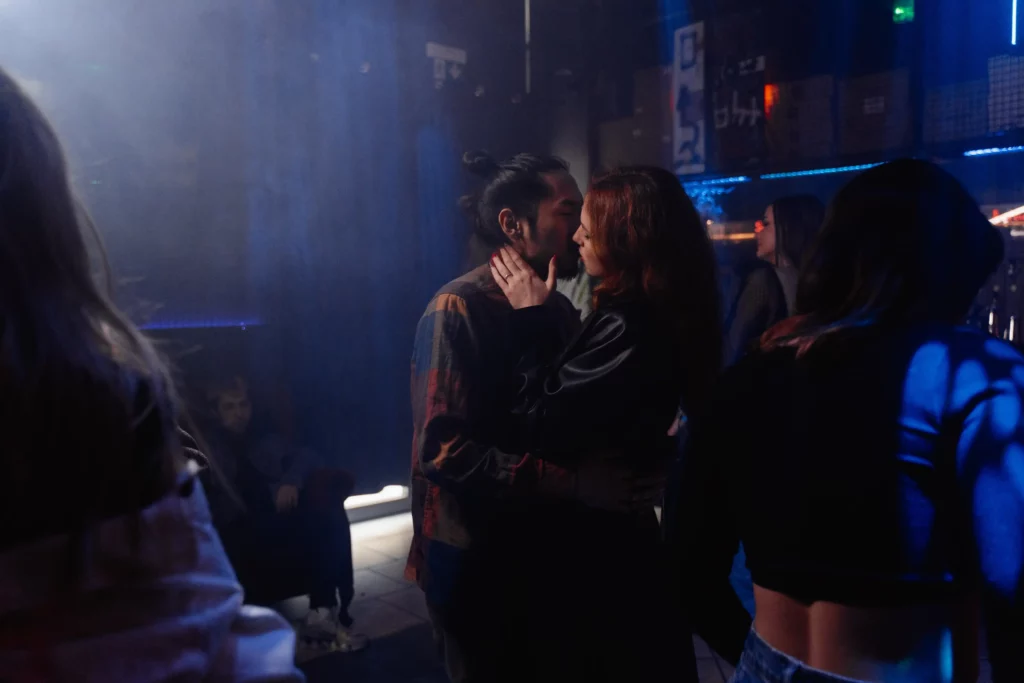 Once everyone's together and introduced, it's time to ramp things up.
I wouldn't try to hold the spotlight and be the center of attention. If the other girl starts to only focus on you and leave your girlfriend out, things can get awkward really quickly.
Instead, everyone should be engaging each other. Or, you can even let your girlfriend and the other girl do a lot of the talking. You want to make sure they're continuing to connect.
I would openly flirt and be playful with both women. Flirting with your girlfriend can be more bold while you want to work your way up with the other girl. You still want to read her body language and make sure she's comfortable as you escalate your flirting (compliments, intimate questions, touching).
By now, many girls will have started to get the hint. If not, they will soon.
One thing I would not do is be the guy who's trying to get them to hook up. Don't say stuff like, "You guys should totally make out right now." It's not turning anyone on and it makes you seem like a horny frat boy.
I would drop in something subtle when the two girls are laughing together. For example, "Aww, you two are so adorable right now." This reinforces you approve of them together and find it endearing.
At some point, I would give them some alone time by offering to get drinks. This is especially important if you were the one who approached the girl in the first place.
When the two girls are alone, I would suggest your girlfriend helps move things forward. She should tell the girl something like, "I can tell [your name] thinks you're cute." Or "My boyfriend totally has a crush on you – you're his type."
This is important because it basically says to the other girl that your girlfriend is happy with everything going on. Most women won't be comfortable moving forward with anything unless they know your partner is okay with it. They don't want to start controversy – especially if they like your girlfriend.
And with your girlfriend being vulnerable, it will often encourage the other girl to be vulnerable, too. That's where she starts replying to your girlfriend, "Oh really? You think so." And "I think he's cute, too."
After you've all mingled for a while and had a good time, it's time to go to a more private location. It's as simple as either of you telling the other girl, "Hey, we're going to continue with some drinks back at our place – you should come along." Or "We're going to get out of here, why don't you join us?"
If she accepts, this is when the real party starts.
Having A Good Time Back At Your Place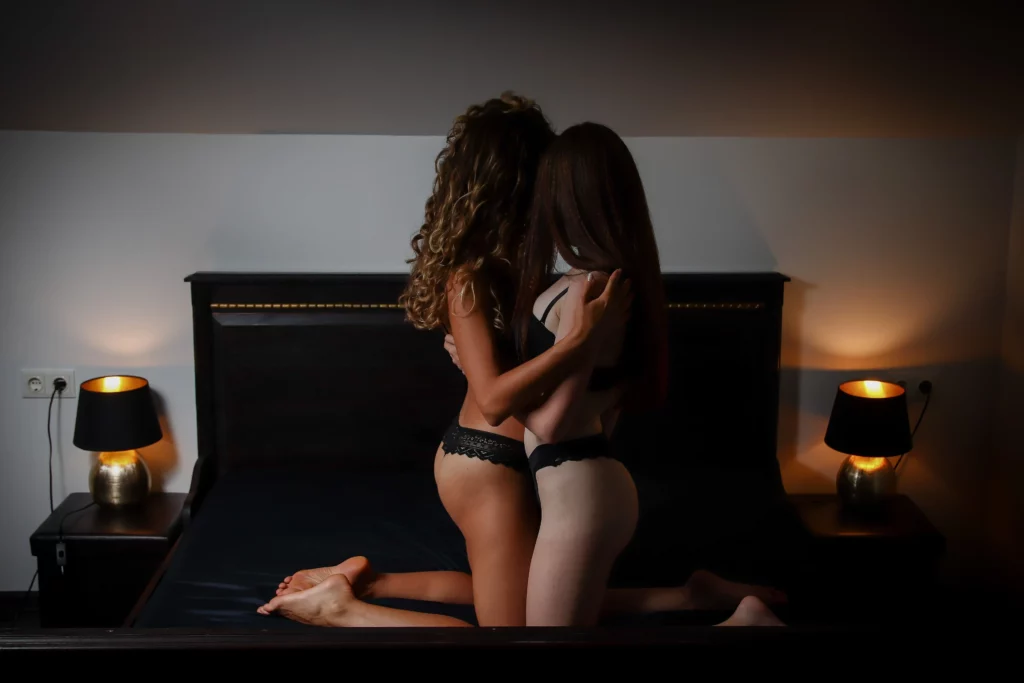 You'll still to need to work to keep the momentum up at your place. The situation may progress naturally but it helps to ensure that things go smoothly.
Be a good host and offer up a round of drinks. Alcohol gets the group more social, lowers inhibitions, and gets people thinking about sex. This isn't necessary if drinking isn't your thing, or you've already had too much. You need to make sure you're sober enough to perform after all the time and effort you've invested.
At this point, it's common for guys to try to get things started by encouraging the girls to kiss. The women will probably hesitate and trying to logically convince them will almost never work.
All you're showing these girls is how much you want this. You're proving to them that this is really about you trying to get off and not about them.
You need to get them into a sexual mood. You need to be turning them on. And how do you do that? Sexual arousal by proxy.
We watch porn largely because it's hot to see other people moan, touch each other, and feel pleasure. The same principle applies in-person. If you start hooking up with one of the women, you create a safe, erotic environment.
Ideally, you want to position yourself near both women. I would advise you begin with your partner. You can touch, kiss, and even massage her while both of you continue to talk to the other girl.
As this is happening, you'll hopefully see the other girl start to become aroused. With arousal comes that tension that we want to release.
You can turn towards the other girl and start touching her. You can rest your hand gently on her leg or gently run your fingers on her arm. If she seems comfortable, you can either start massaging her or if it's blatant that she's ready – kiss her.
Once that intimate touch or kiss barrier is broken, you can go in between kissing both girls. You can touch both of them at the same time. Then you can bring them both close and guide them together.
Once everybody is touching, the fun should continue on its own.
Congratulations, I hope you and your partner enjoy a steamy, sensual, and memorable sexual experience.
Related Video