Embrace Curiosity and Connect With More People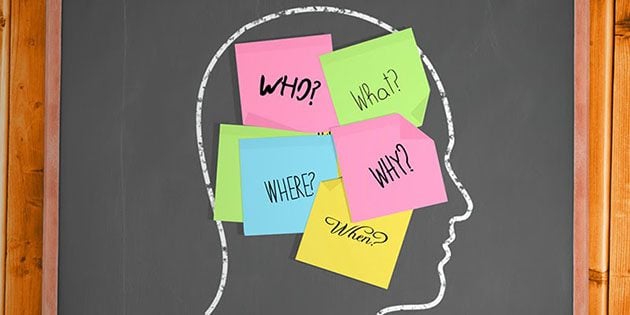 Over the last few years, my fiancée and I have met a lot of new people. And we're genuinely curious and love discovering what makes people special.
After hanging out with new friends, we almost always enjoy talking about the cool things we learned from them.
"Tom has been working hard on his PhD in Neuroscience. His research on how drugs affect our brain chemistry is fascinating." "Jamie just came back from Spain and told me about running with the bulls." "Nicole and Austin told me about their dreams of opening up a progressive day care."
Eventually, we both end up wondering, "Hey, did anyone ask us about us?"
Sadly, the answer is often…not really.
Now I don't think that these people meant to ignore our good stories, but it does say something about how essential curiosity is to conversation. I'm experienced in asking probing questions that spur people to tell personal stories. Other people don't always know how to do that.
What's important to me is finding out who's willing to invest back in me, and who's worth building a stronger friendship with. Because when someone is curious to know more about your life, it shows that…
They care.
Showing a person that you give a shit about them is crucial to gaining their trust and interest. Being truly curious makes you stand out from the rest of the superficial crowd.
Why being curious is so important
Embracing an inquisitive nature does so much more for connections than most people realize. It…
Builds deep connections. People can sense genuine curiosity and will start to feel comfortable with you. They will actually share their true opinions, values, personality, and get into thought-provoking discussions. This is how you can move past small talk and build meaningful, mutual connections.
Gets you out of your head. If you're truly interested in getting to know someone beyond surface-level, you'll be able to ask more interesting questions (and cut through the same boring BS.) You have to pay attention and pose relevant, thought-provoking questions. This forces you to be a good, present listener and focus on the other person rather than worrying about what you're going to say next.
Develops a confident mindset. When you're curious about others, those people will to start reveal their true selves. This allows you to evaluate whether or not that person has the qualities you're looking for in a connection. Only then can you choose if they're a good fit for you instead of just trying to sell yourself. Which, in turn…
Gets people wanting to win your approval. This is especially true with attractive women. They're used to guys trying to impress them. They have men flattering them endlessly, agreeing with everything, and trying to "act cool". If you're genuinely trying to evaluate what she's about, she'll sense your non-neediness and want to work for you.
Builds your interest in people you never imagined. I have so many people tell me everyone they meet is boring or not what they're looking for. But that's often because they don't encourage others to open up so they miss out on their deep, creative, and emotional sides. Encouraging other people to be vulnerable is what makes them interesting!
Why curiosity fails for a lot of guys
When I present the power of curiosity to some people, they're skeptical. They tell me that they already ask everybody tons of questions and it hasn't gotten them anywhere. Their conversations are always about the same old boring topics.
If you feel this way, it's because you're going about being curious the wrong way. You usually sabotage yourself by doing one of these four things…
Putting curiosity into practice
Get creative with what you want to discover about people. I'd rather you practice asking forward, off-the-wall, or challenging questions than staying timid and never getting anywhere substantial. Be curious about…
Their relationship with their family. What was it like growing up as an only child? Now that they've moved away from their parents — how do they deal with being home sick? What adventures did they used to have with their siblings?
Their best friend. Why is that person their best friend? What makes them hold such a special place in their heart? How did they meet? How has their friend changed them as an individual? What's the most important value or idea they've learned from them?
Their experimentation (or lack thereof) with drugs. What was their most memorable experience? What was their worst? Have they ever had a sexual experience heightened by a drug? What profound realizations, if any, have they had while using psychedelics?
Their take on self-improvement and their own development. Do they believe people can truly change or are they set in their ways? How do they deal with those who've wronged them? How have they grown as a person in the last 3 years? What fascinates them about the human mind? Do they care about changing the world or would they rather do your own thing?
Their views on personal freedom. How much privacy do you value vs having someone watch over us to protect us from terrorists? Should people be allowed to put whatever they want into their body?
Their sexuality and views on sex. What's something other people may see as odd or strange but turns you on? What was a pickup line that actually worked on them? How soon is too soon to have sex with someone you like? How do they feel about someone who embraces promiscuity and wants casual sex?
Their current job. Besides what they do, what's the most rewarding part of their career? What are the challenges they face regularly? What's a project they worked on recently that they're really proud of?
Their actual passion. Is it their current career or something else? Would they take less money if it meant higher fulfillment? What are they doing to work towards having that passion as an option?
Their travels. Are they more of a historian, beach goer, or wild adventurer? What lessons have they learned from other cultures? Has any place had a profound life-changing impact on them? What's the one place they would keep going back to, and why?
Their niche hobbies or interests. What's their guilty pleasure they spend their free time on? What eclectic art or food do they enjoy? What are they into that few other people have even heard of?
Their fears or insecurities. What is something they're irrationally afraid of even though they know logically they shouldn't be? What fears have they recently challenged themselves to overcome?
Their beliefs on love and relationships. What do they think constitutes true love? Does love at first sight exist and have they experienced it? Does the honeymoon period in a relationship have to end? What's the 3 most important qualities they need in a partner?
—
Think about how it feels when you have someone who really cares for you. How do you think other people will feel when they can tell you truly want to get to know them?
If you want to create more connections with more people, you just need to ask the right questions. Indulge your sense of wonder and be curious.