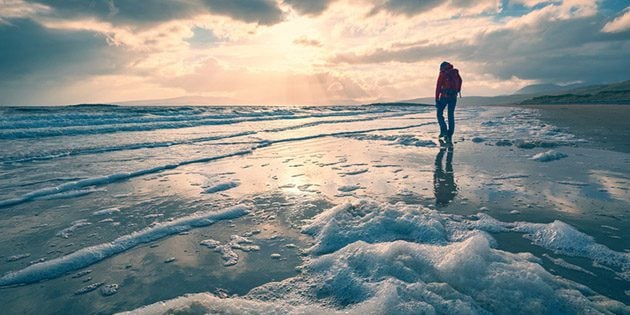 How Self-Analysis Leads
To Self-Empowerment
Ask any parent about their child's inquisitive nature and they'll tell you how kids question everything. They want to know all about the world around them, where they came from, and where they're going to go.
If you answer one thing, kids will prod deeper and deeper and deeper until you can't take it anymore. It requires a massive amount of patience because nothing seems to quench a child's thirst for knowledge except…more knowledge
As we grow older though, we seem to lose that sense of wonder. We get stuck in our ways. We tell ourselves that ignorance is bliss. And our scope of curiosity often narrows to what we already know and are comfortable with.
I don't think this is purely a product of age or cynicism. Yes, some people are just grumpy old farts. But it almost always comes from a place of fear.
Over time, we begin to fear the reality check that comes with accumulating more knowledge. We're afraid of prodding and poking too deeply — especially when it comes to self-analysis.
This plays a huge role in what hinders growth and development.
Table Of Contents
Why We Avoid Self-Analysis
Most people avoid thinking too hard about themselves because they're scared of the truth.
The truth being that…
You may be wrong.
You could be doing something better.
The beliefs you've held onto and identified with could be completely false or unhealthy.
It can be terrifying to face your true motivations, limitations, and insecurities.
So you go around defending your beliefs and opinions in the face of contradictory evidence. You convince yourself that your way is fine and it works for you. You set arbitrary limits for yourself to justify inaction.
When you're forced to confront your deepest demons, you try to numb those emotions or push them away. You try protect yourself and your ego. For many, it's easier to deal with it this way than to actually try to understand more about who we are.
Because if you admit that you might be imperfect or flawed, you see that as being a failure. But the real truth is the exact opposite.
Honest self-analysis is the only way we can tap into our greater potential. It's what empowers us to grow as individuals.
We are inherently imperfect and naive…and that's amazing. We will never be flawless at everything and we always will have room to improve. That's the beauty of being human — we can adapt.
You have to accept that a yearning to understand yourself is critical to your personal happiness. It is not a sign of weakness or a lack of self-worth, but a source of immense strength.
The Power Of Looking Within
Ignorance is not bliss. Ignorance is a hindrance and a false safety net. Knowledge is power and that is why I question my beliefs and stance on things constantly.
That doesn't mean I just take everything at face value. I'm a skeptic but a skeptic who seeks the truth combined with my own reasoning and logic.
By seeking out how to improve yourself, you will…
Make better decisions. The more informed you are, the easier it is to take healthier and smarter actions in life. You will learn how to tackle problems more efficiently by playing to your strengths.
Become adept at handling any situation. With the right knowledge, you're prepared for whatever comes your way. You can roll with anyone, contribute to any conversation, and have the insight to think of creative solutions.
Stop seeing your areas for improvement as a negative. When you take a scientific approach to self-analysis, you cultivate a solution-based mindset. You begin to challenge your way of thinking, test new theories, and enjoy the process of personal growth. It takes the focus off the outcome and reinforces to not take things personally.
Create lasting self-esteem. By understanding who you truly are, you can practice putting your honest self out to the world. You then become more congruent and in-touch with yourself. And you can start to pursue meaningful experiences or connections that that make you happy.
The Questions You Need To Be Asking
Some of you may already feel like you think about yourself a lot and haven't gotten anywhere. Maybe it's even made things worse.
So let me ask YOU a question…what are you doing with those thoughts?
Self-analysis without action is just mental masturbation. Self-analysis accompanied by constant self-criticism is destructive.
You need to take those thoughts and test them in the real world with an open mind and without judgement. Just be curious. That's the only way you truly grow.
Below I've listed some deep questions I use and examples of how you can apply them in your own life to propel your development.
—
Question yourself, put your hypothesis to the test, and develop real knowledge about who you are.
That's how you will push the limits of what's possible and actually start to change the reality around you. That's how you'll start to trust in yourself and build a positive inner critic.
And that's how you'll empower yourself to unlock your true potential.
Related Video