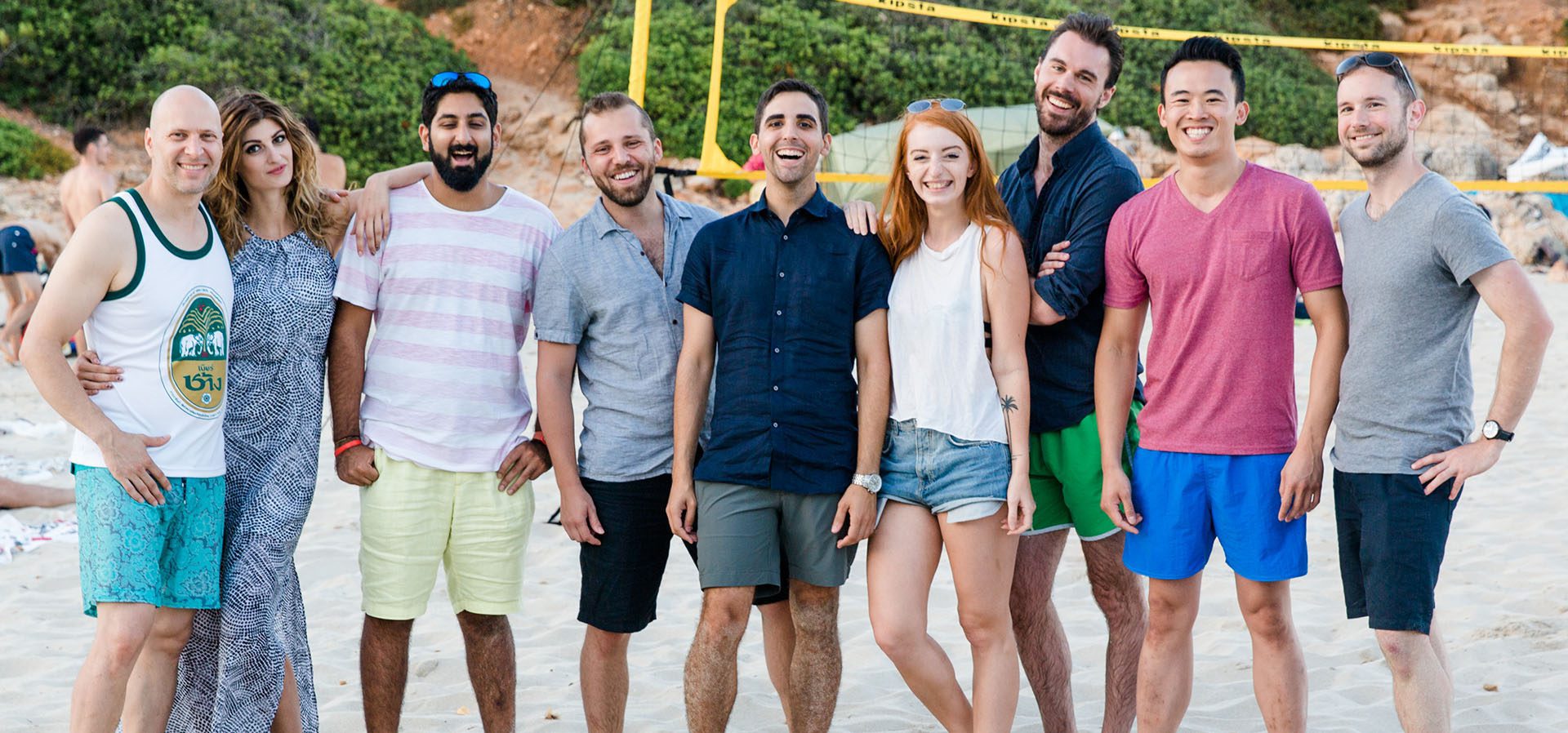 How My First Retreat
Conquered Fears
And Changed Lives
You may remember my retreat I hosted with Julian and Kristina from LoveLifeSolved in Majorca, Spain this past August.
After months of grueling preparation to launch the biggest project I'd ever worked on, I finally found myself…
Standing in line for two hours and sweating my ass off. I was at the Majorca airport in the longest rental car line in the history of rental car lines.
It did give me a lot of time to think, though.
I was about to spend five days living with eight people I'd never met in-person before. Many of them invested their time and money to see me. Specifically, they expected me to help them find the confidence within themselves where other people or life experiences had failed.
On top of that, these people had to be fed, attended to, and entertained with engaging activities that pushed their comfort zones.
Just a little pressure…no big deal.
Welcome To The Mansion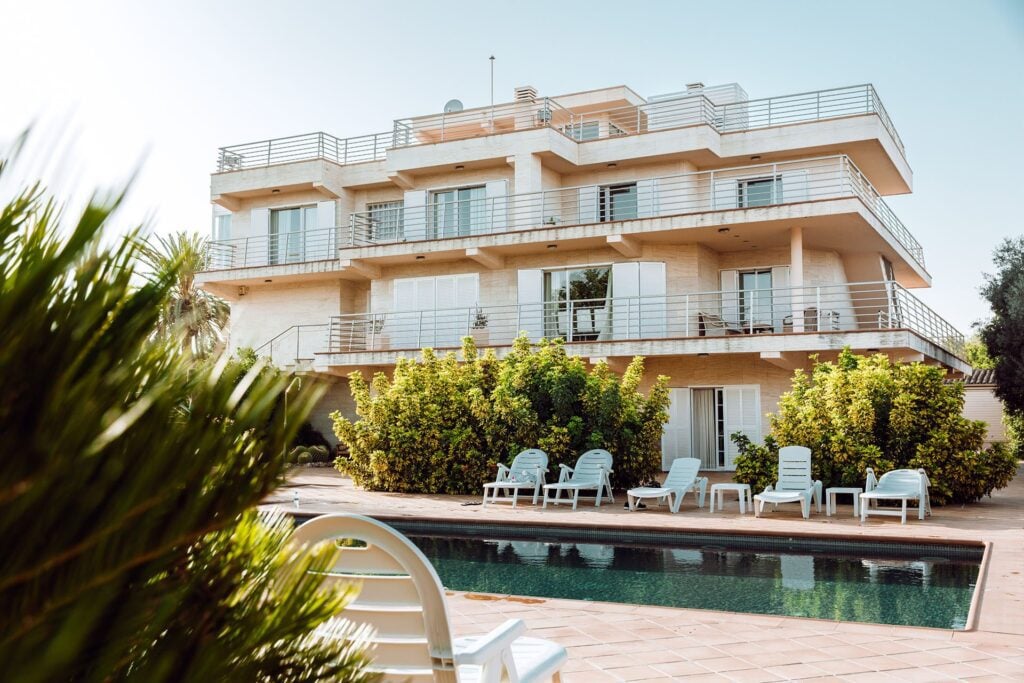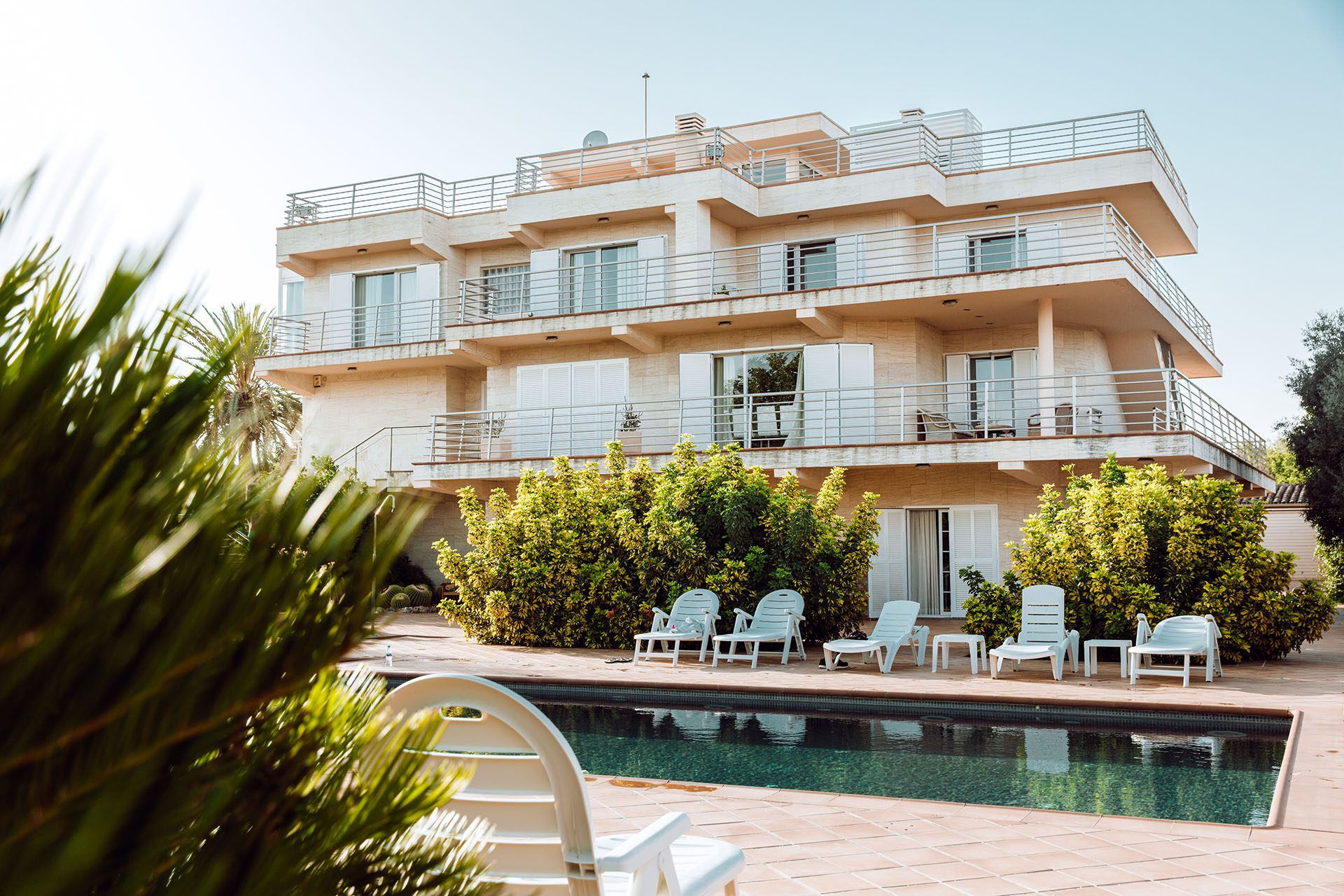 After surviving the line, I made the 15 minute drive to the house we rented for the week. We followed a rural road to a pair of towering iron doors. After punching in the security code, the doors revealed a sight whose awesomeness I can only compare to the gates of Jurassic Park opening: a vast clearing with lush plant life all around, and the funny feeling that this was going to be epic.
The house was a Spanish villa with multiple balconies and rows of windows all overlooking a stunning pool and outdoor area. Marble floors, a maze of bedrooms, and hidden jacuzzis awaited us inside.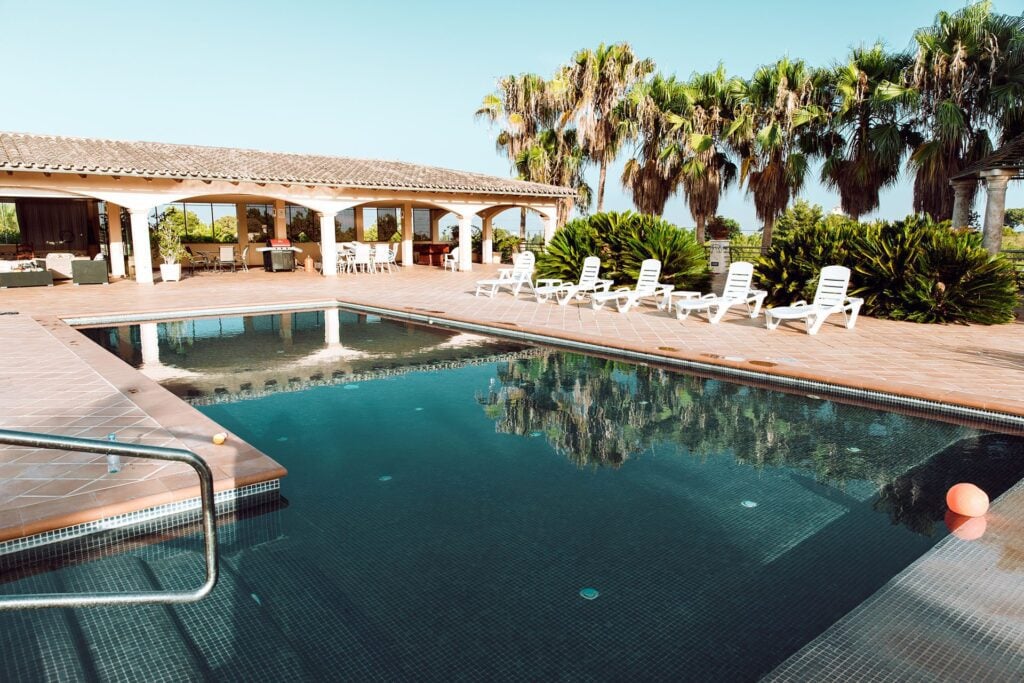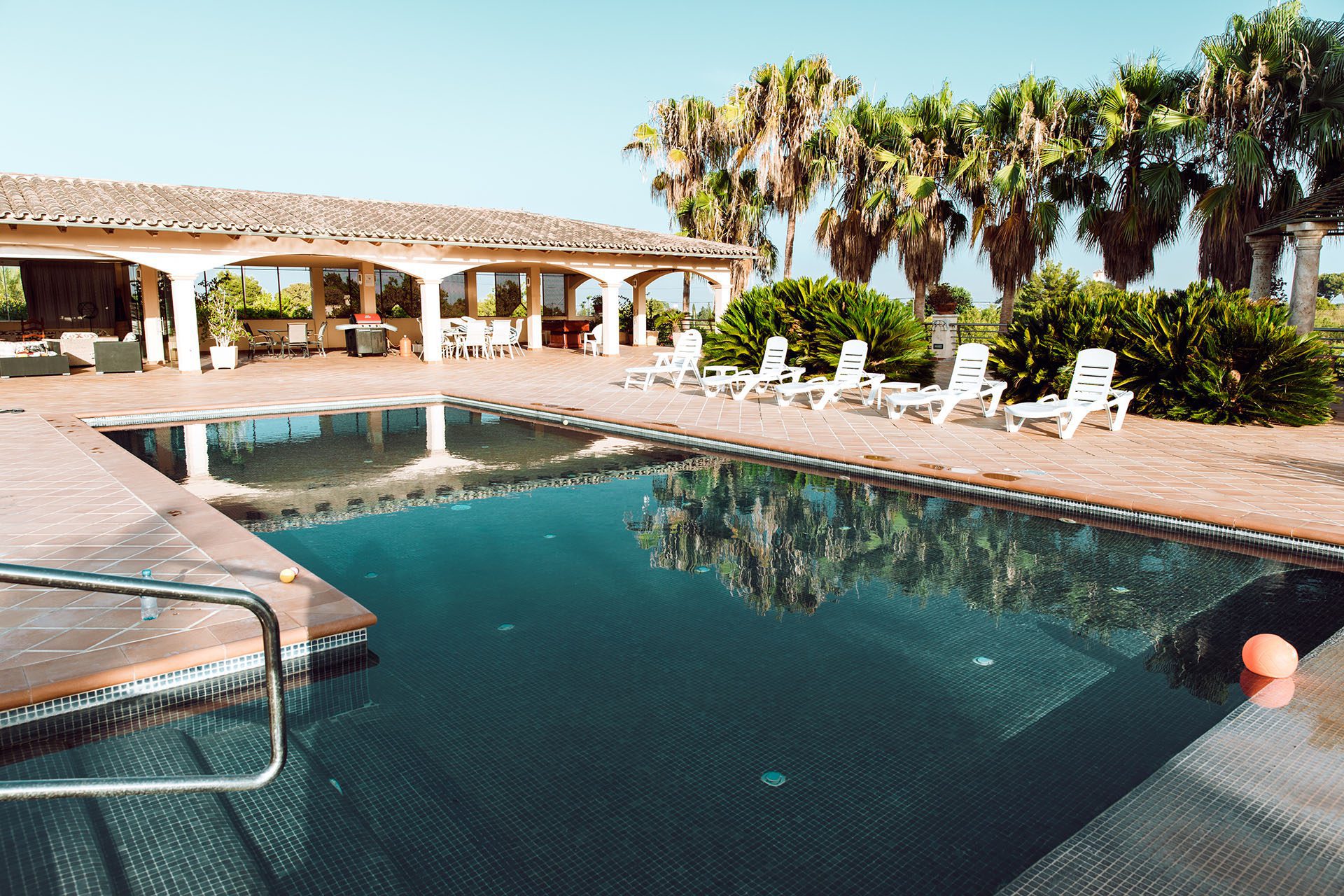 All I remember thinking was…
"Is this real life?" and "This HAS to belong to some kind of drug lord."
I soon met some of the guys who'd already arrived and said,
"Hey! What a piece of shit this place is, huh?"
Everyone started laughing their asses off and we just…clicked. With each new person who arrived, the dynamic got only more warm and energetic. I was relieved that the attendees I'd chosen would make the five days SO much better than I could have ever envisioned.
The day-to-day
Every day started with a theory session at the house where I taught a specific topic relating to confidence and being more attractive. I threaded in practical exercises where the guys practiced vulnerability and social skills with one another.
Julian led the way by sharing an immensely personal story about a strained relationship he'd been trying to fix. By working through things together, the guys bonded quickly and were forced to really implement the advice.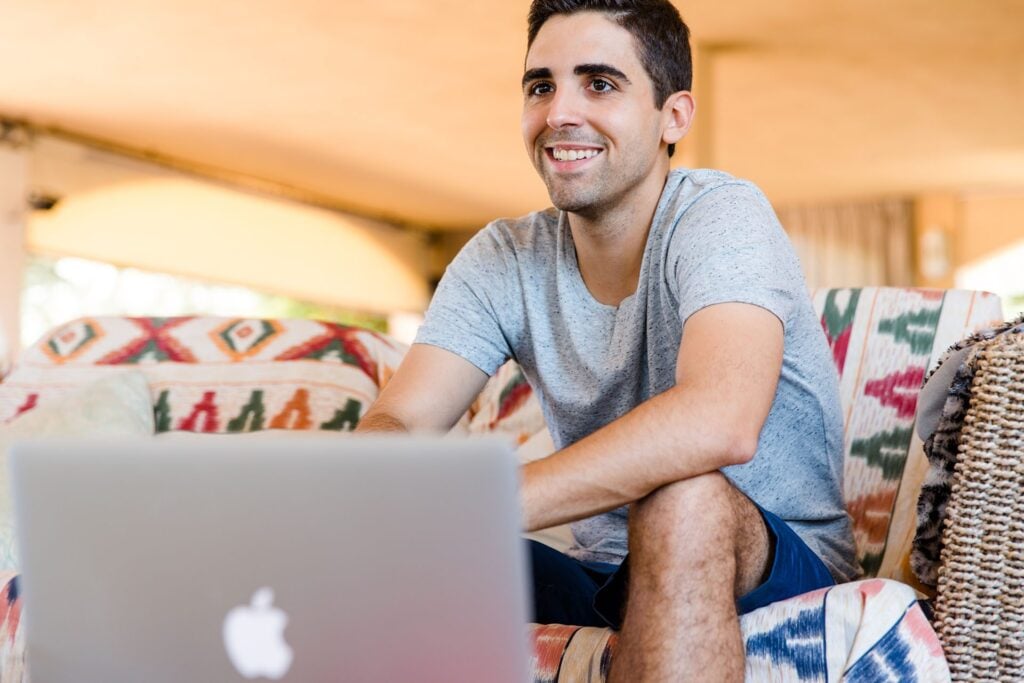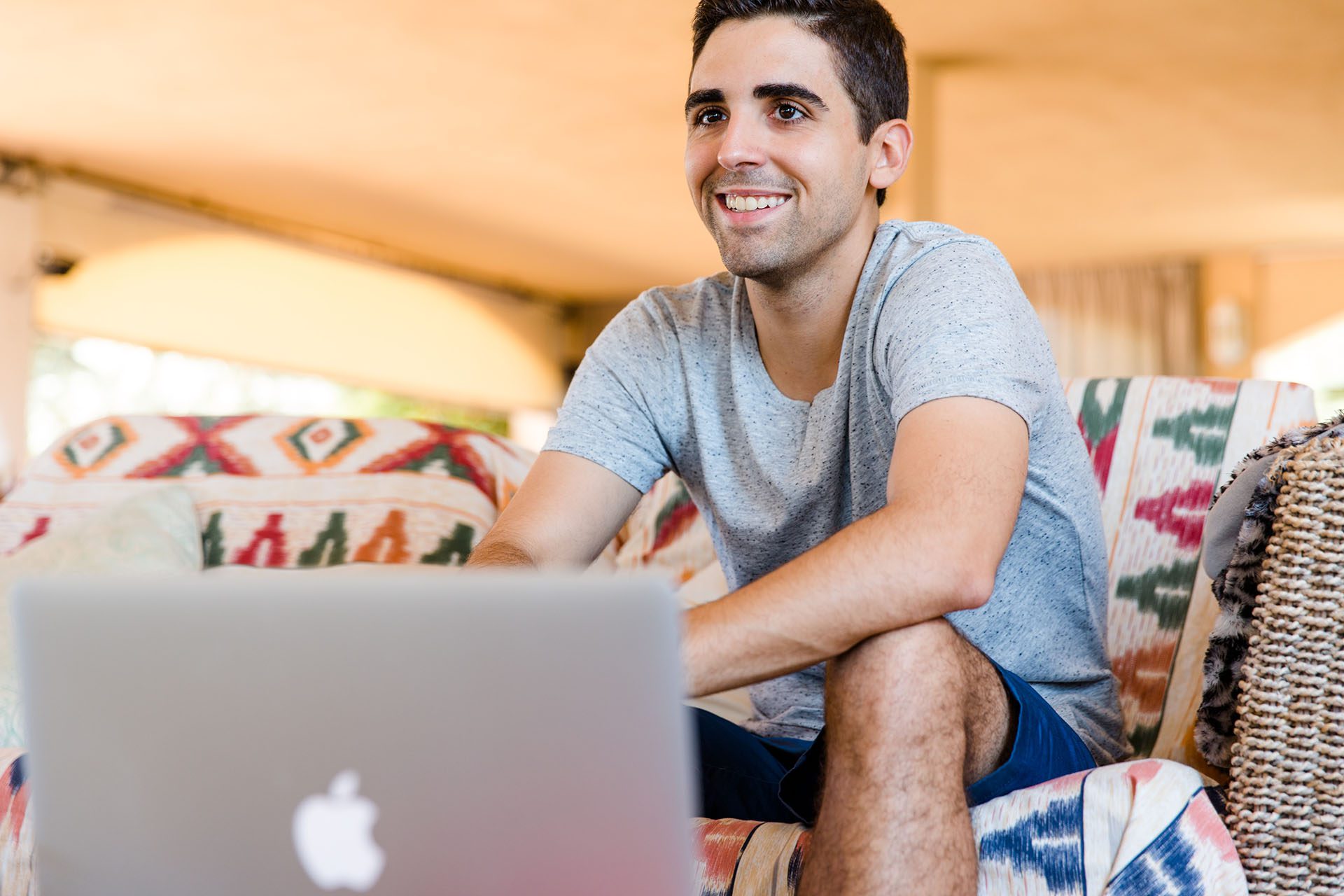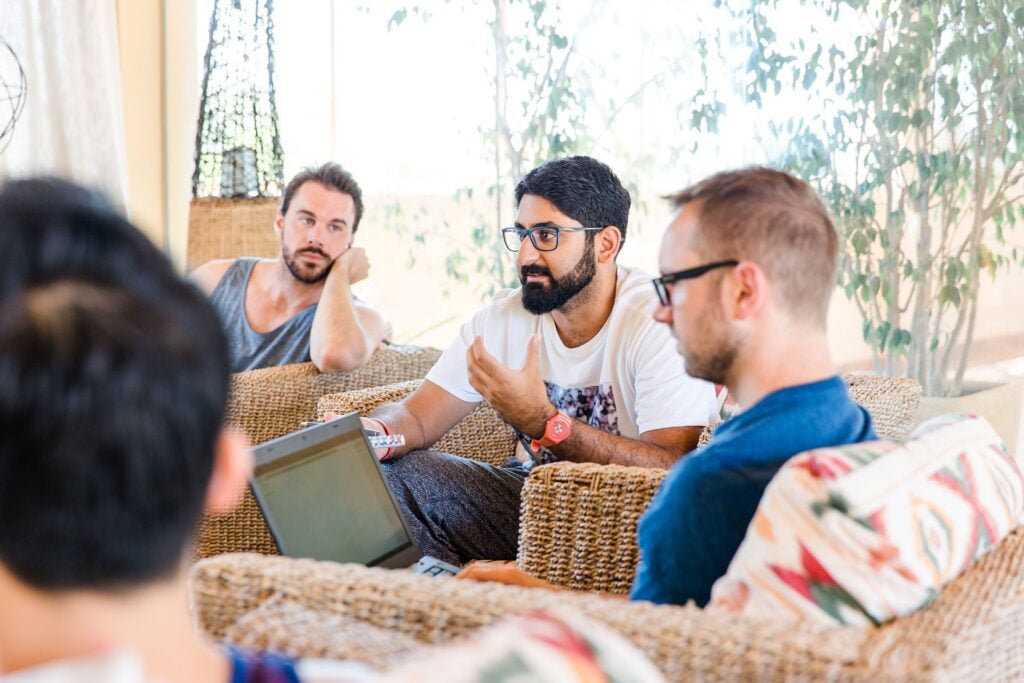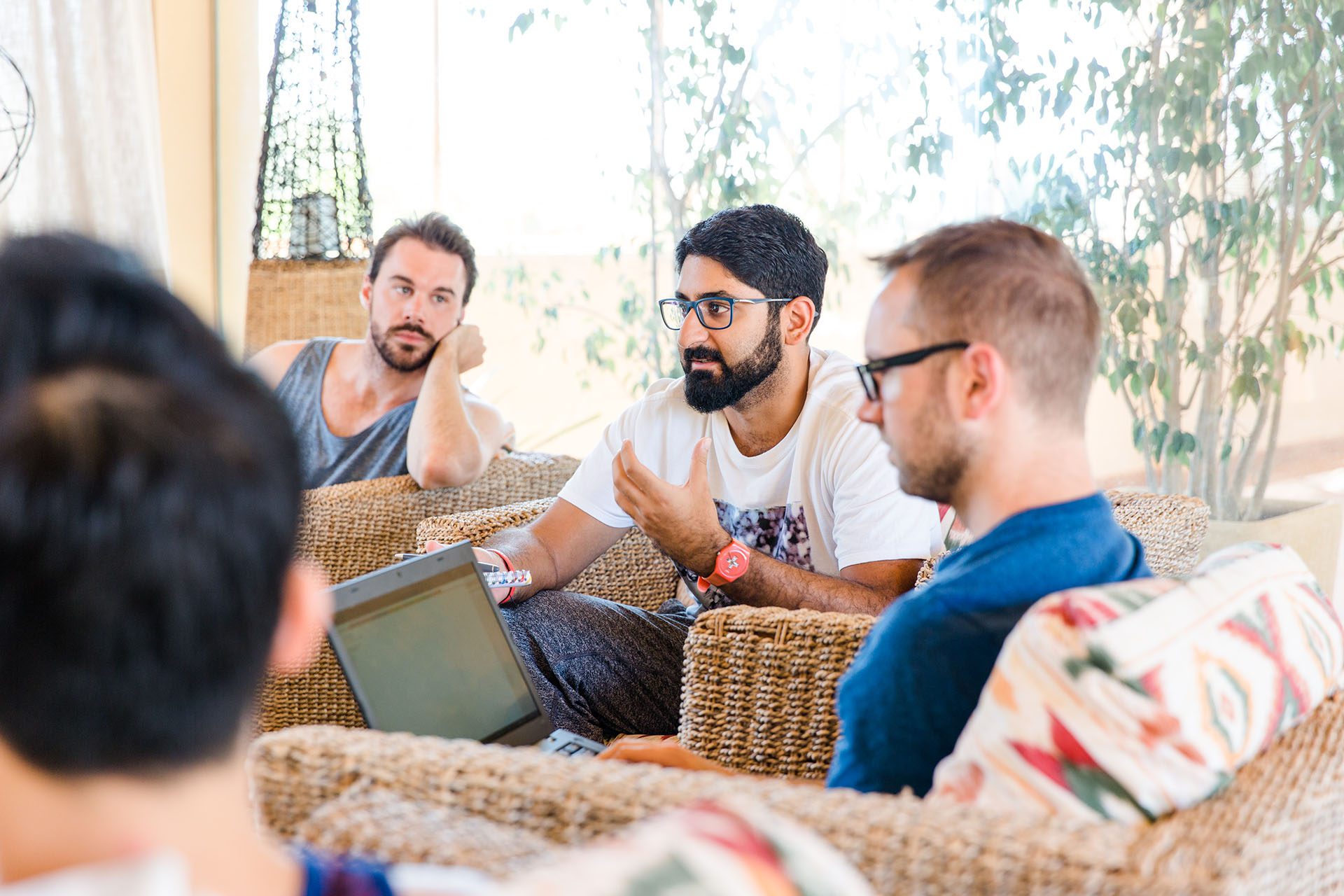 Things got even more interesting when the guys started practicing on the two women at the house – Kristina, my co-host, and Sarah Katharina, our brilliant photographer. Putting their newfound tips to the test with beautiful women challenged their comfort zones and prepared them for the real world.
I'll admit, I was hesitant to pull the girls in for practice. It can be difficult for men to open up emotionally around new women, and I didn't want to do anything to discourage them. Also, I've had poor experiences with asking women for dating advice – it's hard for them to know exactly what to tell a guy to do better.
But Kristina and Sarah were unbelievably supportive and vulnerable, too. They shared personal details about their own experiences, insecurities, and romantic lives. This helped the guys drop their defenses and connect with women in a way that many of them never had.
I realized incorporating a female perspective into future endeavors would be incredibly helpful. Hearing it straight from a girl's mouth that a guy could "hold more eye contact and touch my arm!" gave my clients the confidence boost they needed. And after all, one of the main goals in my teachings is to show how men and women often want the same things…and don't need to be considered adversaries.
After each lesson, we went on a number of fun, social excursions to put the advice to work. We took a hike, hung out at the beach, explored the capital city, drove a cross-island road trip (lots of car singing was had), and visited another city with a more "spring break!" feel.
The stunning beach
During those trips, Sarah photographed all the guys and edited their pictures the same day. One by one, we replaced their Tinder photos and the difference was ASTOUNDING. The guys immediately started getting matches and were finally convinced that photos are everything with online dating. They've also been using those pictures since and have gone on tons of dates at home because of them.
That convinced me that having a photographer on site was crucial. It's not just some excessive add-on — now these men have breathtaking pictures for social media and online dating for the next few years.
We had a nightly dinner (the food was ridiculous in Spain), followed by another home lesson, and then we either hit up the bars and clubs or talked to people hanging out in the city center. Because of their afternoon siesta, most people didn't even start dinner until 10 or 11 PM and the city was bustling all night. It was a rare situation where you could approach people at night because it still felt casual like the daytime.
The one thing we didn't expect was how late the nights would run because of how late the island nightlife started. Most bars and clubs didn't get busy until 2 AM. When we'd eventually get home, everyone was so pumped that we still hung out for hours.
I've never had less sleep in my entire life but I wouldn't have changed a thing.
Connecting with people in the real world
I know friends who have hosted retreats and others who have been a part of them. Everyone raves about how great an impact they can have…but I never really understood their true power until I experienced it for myself.
I'd like to think I'm great at what I do. But it can be different when it's just me and a client. Even when I open up with them and relate through my own journey, it's sometimes hard for them to picture that I struggled with the same issues. They only see how I am now after all the work I put in. Or they believe I have a special ability for growth that they don't.
With a group of like-minded men dealing with and overcoming similar issues, however, they don't feel alone. They can see their own potential when they hear about others guys defeating the same obstacles they're facing. They feel safe to share their experiences and encourage one another. And in doing so they build deep, meaningful friendships together.
Because of this process, I saw rapid self-improvement and constant success.
These men put themselves in countless social situations during the day and night. They approached people around the city, inside stores, at the beach, during lunch, at bars, and in a high-end club. Some of them had never approached like this ever before and by the end of the retreat — they had each talked to 10 or more women.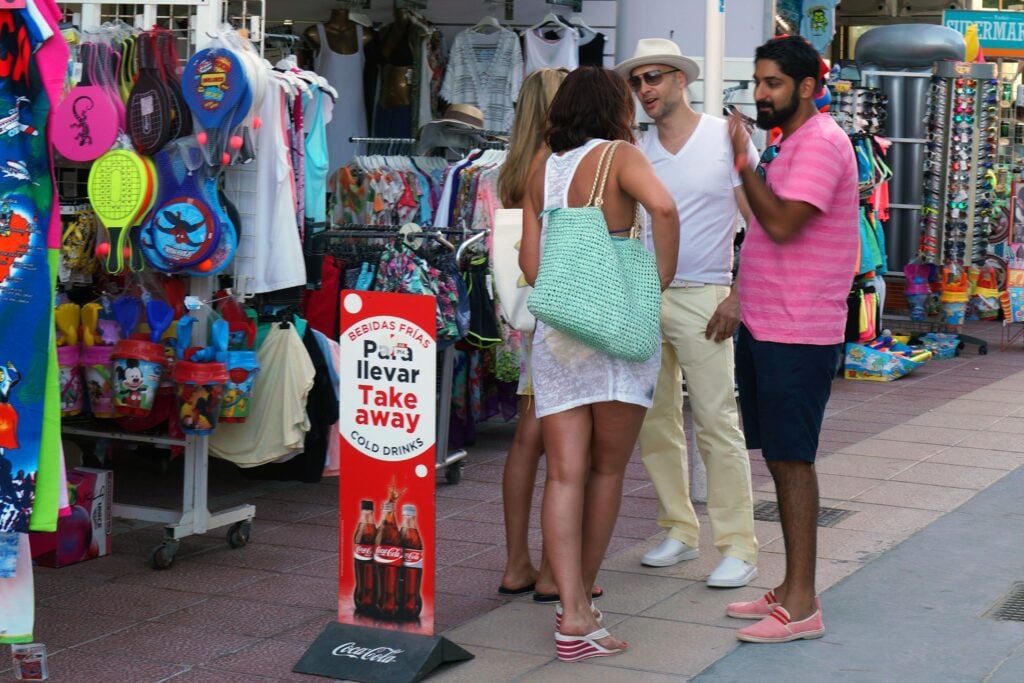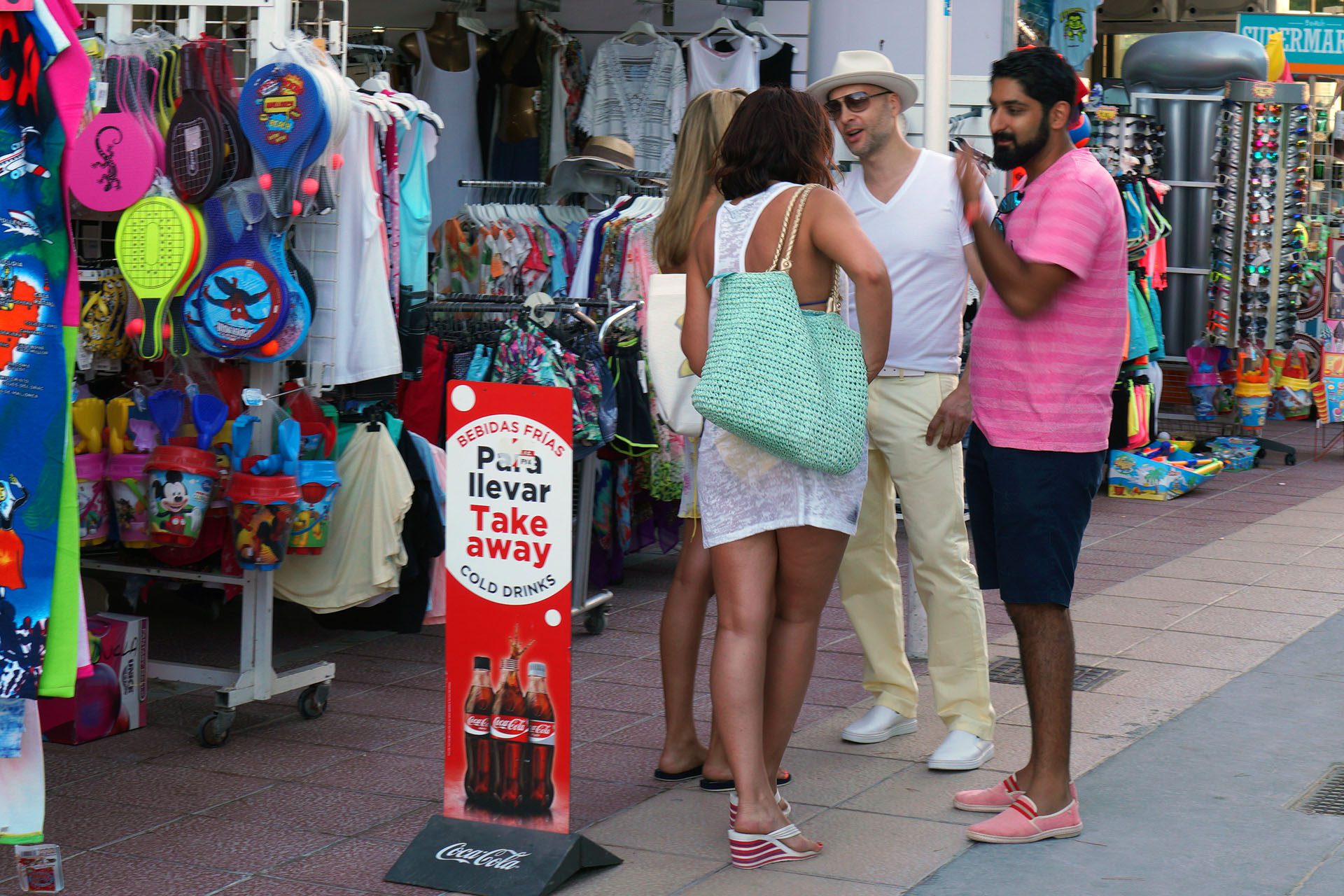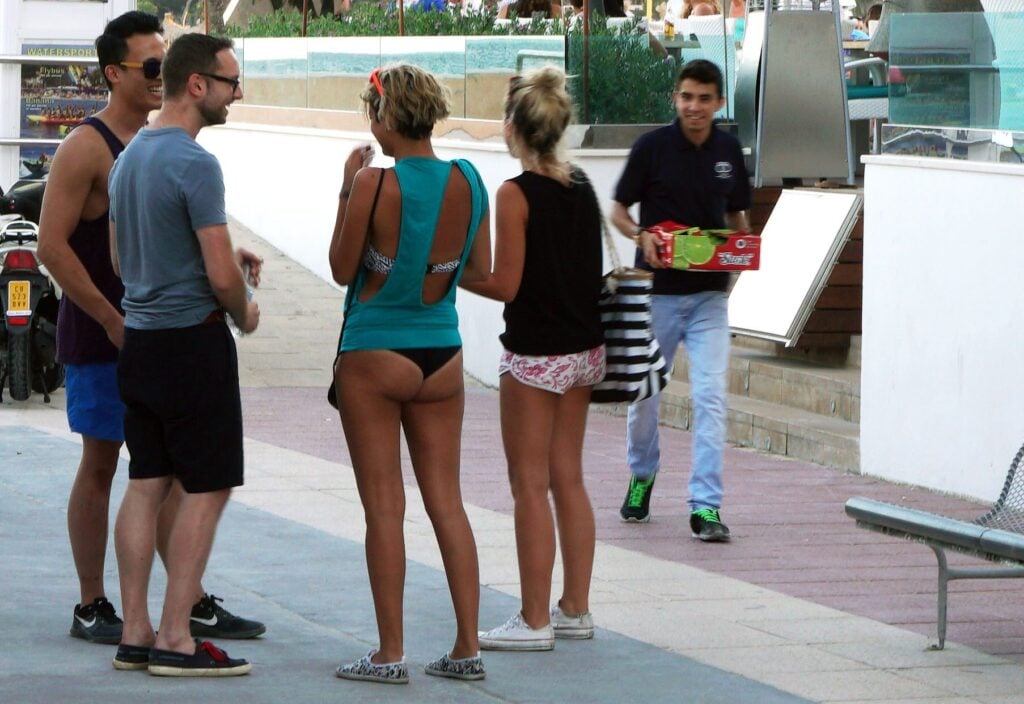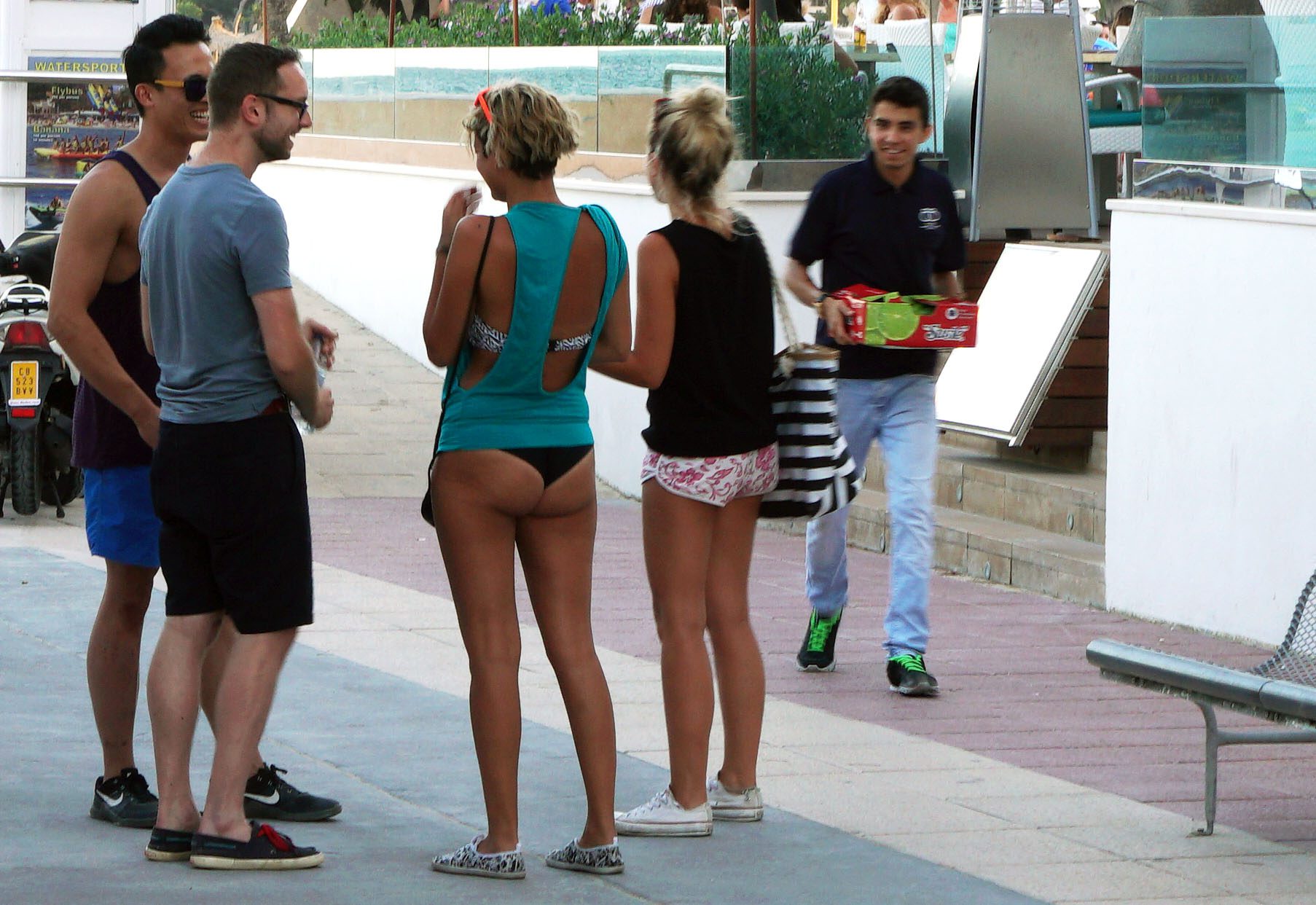 Since they knew their friends had their back, the guys went into interactions with enthusiasm and confidence. In turn, they were captivating women and getting phone numbers at a rate I had never seen before.
Typically, half of the women you approach may respond well and a third will want to see you again. In Majorca, about 80% of the women responded extraordinarily well to being approached and 75% of them gave out their numbers.
The craziest part? A few minutes after ending the conversation and continuing with our day, the girls would be the first ones to message the guys!
And let's just say that a few of the guys ended up going home with some beautiful ladies. But that's not even the best part of the story…
Building real confidence and becoming new men
These guys came to the retreat looking to develop genuine confidence. And in 5 days, I watched them radically change who they were at their core.
I watched them begin to believe in their own abilities and let go of bullshit limitations. I could literally see the physical changes in the way they carried themselves. I heard it in the way they spoke with more strength and conviction. And I felt it in the way they stopped hesitating when they needed to take action.
The attendees became more motivated about going after their own personal happiness, and not just in regards to dating. They started working towards improving their familial relationships, pursuing the passions they always were too scared of, and building a fulfilling social lifestyle.
By the end, they knew how to handle the situations that may come at them. They knew how to filter them through their own needs, desires, and expectations rather than their fears. They were even able to advise each other on how to deal with problems and come up with their own solutions.
They were proud of how far they'd come. They developed a thirst for wanting more in life. Not just to look cool for other people, but for themselves. And I knew this wasn't some short-term thing where they could just revert back to their old ways.
How could I be so sure?
Post-retreat accountability
Right after the retreat we created a Whatsapp group together. We all wanted to keep in touch, hold everyone accountable, and support each other as necessary.
The continued growth and success has been nothing short of incredible. They've been enthusiastically sharing their new experiences because there have been so many of them.
One individual immediately started working on his entrepreneurial business. One guy had a girl he met during the retreat fly out to spend a few nights with him. Another is making plans to visit a woman he had been intimate with during the trip.
Some of them have met up again in-person to hang out, while others are already discussing hanging out in their respective countries. And as a whole, we're planning future trips together as friends for years to come.
And of course, there has been a non-stop slew of date recaps, text exchanges, and success stories being shared. Everyone's become more social and found it MUCH easier to create romantic connections.
Final thoughts
I couldn't be happier with how this first retreat turned out.
All I wanted was to provide a handful of men with an experience they'd never forget. I wanted them to see their true worth and learn how to tap into their full potential. I wanted them to leave with lasting friendships.
Most of all, I wanted them to embody genuine confidence and create an abundance of relationships and happiness in their lives.
I can now confidently say that the retreat accomplished all that and more. But honestly, I never expected how much this experience and the people involved would change me.
They challenged my own skills as a coach to motivate, communicate, and critically think like I never have had to before. They had me being vulnerable with my own past and with my deepest emotions. They provided me with new friendships that I will always cherish.
And they reminded me why I'm so passionate about what I do and introduced me to a new way of giving back to others.
I'm so excited to keep hosting these awesome retreats that I couldn't wait another year. So stayed tuned because in a few days I have another huge retreat announcement!
If you wanted to come to this last retreat but couldn't, here's your chance. And this time, it will be hosted right here in the good old U S of A.
The crew rollin' deep for a night on the town
I just want to give a final thanks to Julian Reisinger and Kristina Kirilova for handling the logistics and being so incredibly supportive. I couldn't have done it without you two lovebirds.