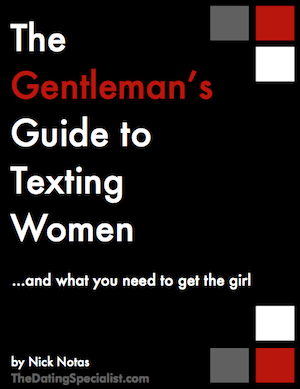 Free eBook:
The Gentlemen's Guide
To Texting Women
Hey guys,
14 pages and 2600 words later, it's finally done – my first free eBook! I'm excited to announce the launch of The Gentleman's Guide to Texting Women.
Texting always seems to be an area guys struggle with. It's difficult to say the right thing and even harder to get her out on a date. I can't tell you how many opportunities I missed out on in the past because I couldn't move things forward. And you better believe I've had my share of screwups and lessons learned.
As much as we might not like to admit it, texting is a critical element in the early stages of dating. From making the first contact to setting up the date, you need to know what works. That's why I made this guide: to share with you all my insights and experiences I've gained through the years.
Currently, I'm releasing the eBook for download in PDF format. Please feel free to share it with anyone you believe would find it useful.
Here's what you get in the guide:
My 10 Official Rules to Smart, Successful Texting
Answers to Frequently Asked Texting Questions
How to Respond to Common Texting Situations
Examples of What You Should and Shouldn't Say
Instructions to download this eBook:
Enter your e-mail address in the form below or on my sidebar to the right.
Check your inbox and confirm your subscription.
Receive the download link e-mail.
Enjoy!
That's it. The newsletter will update you with my new posts, exclusive content, and promotions I offer. I promise I won't spam you in any way.
If for any reason you want to leave my newsletter, there's an unsubscribe button in the e-mails. The eBook is yours to keep 🙂
I hope you guys like this guide and I plan to release more soon. Hint: The Gentleman's Guide to Online Dating is coming up next.