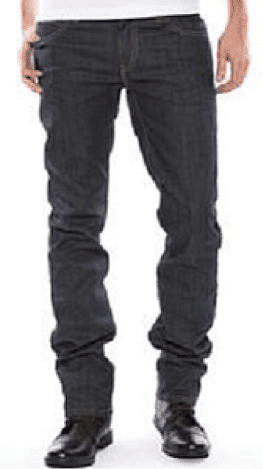 The Quick And Easy Method
To Choosing Good Looking Jeans
If there's one piece of clothing that you're likely to wear every day, it's your jeans! To call it a staple of a guy's wardrobe would be stating the obvious…and yet, when I'm walking down the street, it's rare that I spot a guy who's picked the right jeans.
You're probably asking yourself, "What's the point? It's just a pair of jeans, nobody pays any attention to them."
And that's where you've got it aaall wrong. Let me explain:
A good looking pair of jeans is better than any diet.
Sure, I might be exaggerating a bit, but if you've gotten into the habit of wearing jeans that are too baggy on you, choosing a pair that's the right size for you will make you lose 10 pounds instantly! In my experience as a stylist, they will have a miraculous effect on your silhouette.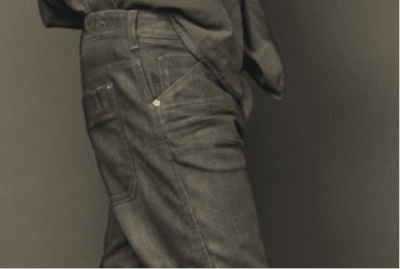 And women have a really keen eye for this (ask the girls you hang out with and you'll see). I guarantee that a pair of jeans that hangs around your ass never goes unspotted when you're around the ladies. On the other hand, if you manage to choose your jeans well, you can bet on getting approached by women to give you compliments.
It's a bit bewildering to start off with (without getting into the details, guys tend to have issues imagining that their rear end has erotic potential in the eyes of the ladies), but I reassure you, you'll get used to the idea very quickly.
Alright, but I don't like hitting the stores. It's annoying and I don't have time – how do you expect me to choose good jeans quickly?
No matter your budget, if there's one single rule you should stick to, it's that jeans should always be slightly tight because they will stretch with wear over time. In general, they'll stretch by at least a size (around your waist) or even more (a size and a half). This rule should be your top priority.
When you try them on, they should be slightly snug around the waist but not to the point that they're uncomfortable. If in the changing rooms you really have to make an effort to fasten the button, don't push it, take the next size up. Trust me, even if they do feel tight to begin with, they'll get bigger and will be perfect after a few weeks.
A new pair of jeans often makes you look like you've got a completely flat ass, it's totally normal. You need to wear them a few times (at least two weeks of intensive wear) so that the material can take on the shape of your body.
Same thing if the jeans are slightly too tight around your thighs, it's completely normal, don't worry about it.
Finally, pay attention to the creases around the crotch. If they are vertical, the jeans are too big or poorly cut. The creases should be in a star shape around the crotch. See the photo: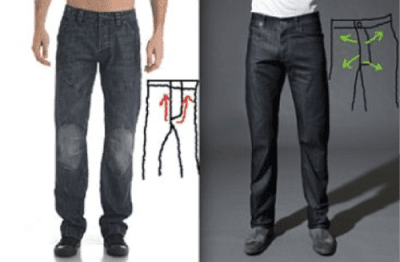 I haven't got a clue when it comes to all the cuts: regular, straight, skinny, slim…which should I pick?
Go for semi­-slim cuts. They're the most flattering by playing a trick on the eye and making your silhouette look longer. Whatever you do, avoid skinny cuts (jeans that stick to your body) and regular cuts (a completely straight cut that makes an outfit look aged).
Contrary to common belief, the cut that suits almost everyone is the slim cut, not the straight cut (you need to be a very large guy to fill those out).
To give you an idea: the straight cut is like a pair of Levi's 501's and the semi­-slim like Levi's 511's (but don't go buying everything Levi's because you can get a better quality to price ratio elsewhere).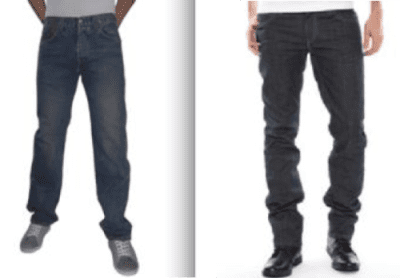 Even if the word 'slim' scares you and makes you think of your little sister's jeans, this isn't the case at all. I encourage you to try on slim jeans regardless of your skepticism for 3 reasons:
A so­-called 'slim cut' isn't the same for every brand. Sometimes it's more like a semi-­slim — exactly what I'm telling you to look for.
The aim isn't for your legs to look like sausages. Not all slim cuts are for anorexic hipsters.
You'll probably be surprised to see that a slim cut actually suits you best.
OK, but what about the color?
Without a doubt, go for a pair of raw jeans. That means a non-­faded pair in dark blue.
This color of jeans goes with everything: you can wear it with a white button down, a grey jacket, or a simple t-shirt on summer vacation with your friends.
The natural fade in raw jeans looks much better than an artificial one.
The industrial fading of jeans is an expensive process that makes the fabric fragile and often damages the environment and health of the workers. Why buy a pair of faded jeans when you can have a better result for a lower price?
If you already have a pair of raw jeans, go for a pair of grey ones. Continue letting your raw jeans fade by wearing them regularly.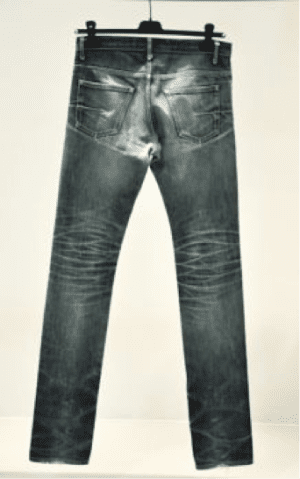 How do I make sure they are quality jeans?
It's not all that tricky. A quality pair of jeans has:
A consistent fabric with a solid color. Avoid fabrics that have white vertical stripes or white spots due to a thread of uneven thickness. The color should have depth and reflect different hues under light.
No crappy details like embroidery or artificial fading.
Good construction. For this, take a look at the stitching on the inside of the jeans. Ideally, it should be consistent with no cotton sticking out.
I have to warn you, though, if you haven't got a great budget and you have to buy your jeans from Zara, all jeans within this price range are around the same quality wherever you go. Try to go for the simplest pair possible, with back pockets and the least amount of detail possible.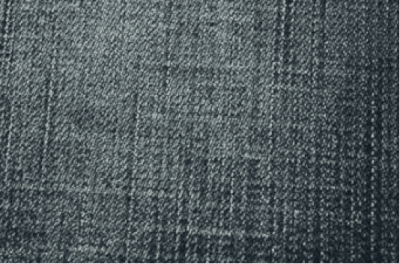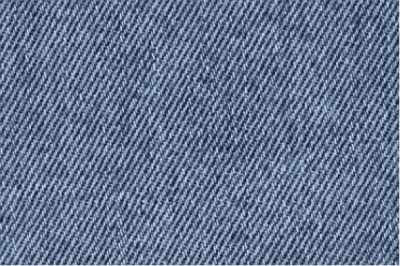 What are some good brands for my budget?

If you can spend a little more, go for brands like Nudie or The Unbranded Brand. They cost about the same as a pair of Levi's but with better quality. If you want to invest in the best, go for Naked & Famous, APC, Edwin, or Acne.
Happy shopping!
Who is Nicolas?

I'm the author of this post and editor at Kinowear.com
At Kinowear we help men choose pieces of clothing and put together simple yet stunning outfits.
Join me on the blog to learn how to dress sharply.