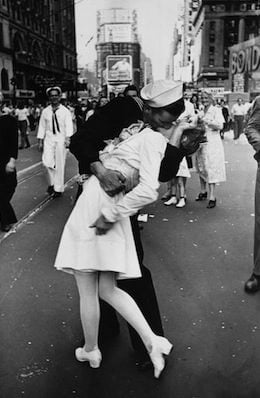 The Power Of A Single Moment
Seizing a single moment can result in unforgettable experiences and even change the course of your life. In this case, saying hi to a girl in a coffee shop led to an amazing relationship.
Tim Ferriss, writer of The Four Hour Work Week, held a contest for Princeton students to build a relationship with someone famous or wealthy. The winner won a round-trip ticket to anywhere in the world. He challenged them to e-mail these so-called "unattainable" figures and ask meaningful, thought-provoking questions.
Students ended up talking to George Bush and the CEOs of Google, Disney, and HP. A few of them even landed careers. Tim Ferris proved that the first step to greatness was just reaching out – an idea previously out of everyone's reality. As Woody Allen said, "Eighty percent of success is showing up."
I've created countless friendships, business connections, and romantic relationships by pushing myself to reach out.
These stories would've never happened without seizing the moment:
My first night during a trip to San Francisco
I went to a standup comedy club by myself. I noticed a group of friends hanging out. Two of them, a guy and a girl, were wearing shirts from El Pelon Taqueria, my favorite Boston burrito joint (their marketing says it all).
I told them I was hunting for a San Fran burrito that could top Pelon's legendary status. We ended up laughing our asses off, going to an after-party together, and I hit it off with one of their girl friends.
My decision to approach this random group of people resulted in great friends for a week and a fun fling.
On the AMTRAK train a couple weeks ago
I commented to the guy sitting next to me about his camera. It turned out he was a prominent photographer who's done studio work for the likes of Lady Gaga, Katy Perry, and Annie Leibovitz.
Coincidentally, I'd been looking for a photographer for new pictures on my site. After three hours of engaging conversation, I'd built a personal relationship with the perfect person for the job.
I first saw my girlfriend at a lounge with her friends
I commented about her artistic style and we hit it off right away. From that innocuous comment, we spent hours getting to know each other and have now dated for over two years.
Years ago, I googled "Boston dating coach" and came upon Thomas Edwards
I loved his business and teaching style so I sent an email asking him if he wanted to grab a drink. We met at a bar downtown and continued to hang out periodically for two years.
As our businesses grew, he moved to NYC and wanted to combine forces. It was a no-brainer and we became business partners at one time.
I used to run a gaming blog
One guy's well-written comments always sparked excellent conversation. I reached out to him and asked if he'd ever be interested in guest posting.
Our digital friendship soon turned into a real-life one, and we've been close for the past seven years. We've had wild adventures in underground clubs, punk rock bars, and burlesque shows.
At the same time, I've crashed on his couch and played Kinectimals with his two wonderful children.
My girlfriend was hired as a musician for a private school musical
She met the head of the music department and made a strong connection. After the gig, I pushed her to email to ask for career advice and offer her other services. She's now a music teacher at the school.
A simple follow-up resulted in a coveted position – the same has also happened for friends of mine who took the time to contact companies directly.
At a tradeshow, I began shooting the shit with the VP of a successful company
We ended up talking about movies, and I asked him if he'd seen The Avengers. He replied, "Yeah, I'm in it." I thought he was BSing me until he started to rattle off several names of directors and films he's worked in.
He pulled up his highlight reel and there he was, in The Avengers, Hunger Games, Homeland, Dear John, The Conspirator, and more. He's a modern-day renaissance man who's a business executive by day and an actor on the side. He's built and sold multiple companies and owns an island mansion.
His passion for living life to the fullest and saying yes to everything had a profound impact on me.
Years ago, I worked with a client who had extreme approach anxiety
I helped him get to the point where he could approach women on his own. A few months later while waiting for the train, he saw a girl, bit his lip, and introduced himself. Now they're engaged and have set their wedding date. A simple "Hello" found him the girl of his dreams.
—
Take initiative in every situation possible. Get proactive, say yes more often, and reach out to people. Forget about the "what if's" and just focus on the first step.
That seemingly insignificant moment could become the best decision you've ever made.
Related Video